Top 5 lesbian videos
14/04/2016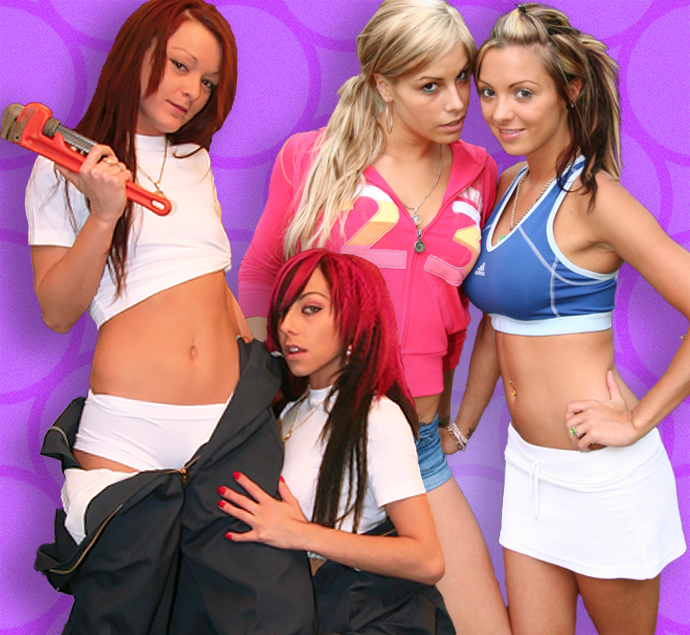 Is there really anything more beautiful than 2 women together? In our book, this is the ultimate cherry on the sundae scenario! Whether they are real life lezzies or simply curious by nature, our beautiful Quebec girls love to play with each other… Girls night out that turn into more or pyjama-parties without pyjama… all occasions are good to eat some pussy!
Top 5 of the Best Quebec Lesbian Videos
1- Naive schoolgirls meet dildos…
Here's a sexy videos where naughty college student Nikita Teen initiate her roomate, busty Leena Rey, to pleasures among girls: dildos, pussy eating and twerk are on the menu!
2- Big tits and camping go so well together
Girls have to help each other out! So when Juicy Pearl needs some help applying sunscreen on her big boobs, Sarah Vickers is there to help… and lick her pussy! She's such a good friend! If you like blonds with big breasts, you will love this lesbian video. It's double trouble – big tits edition!
See Two Tramps in the Sex Tent video
3- Careful! Plumbers at work
Pipe problems? Who do you call… ladies plumbers! Sunny Spark and Julia Stone may be petite and delicate, but they are very handy at unclogging drains, fixing a leak… and fingering each other! No man needed on the job!
4- Morning pussy dose!
Tv can be soooo boring in the morning! So when sexy roomates Shana Lane and Nikita Teen cannot decide on a movie to watch, they start a pillow fight! This fight will soon change in another type of mano a mano… There's nothing like pussy eating to patch things up with a friend!
See Dirty Pillow Fight Trailer
5- Ladies: make love, not war
Summer's made to have fun! And there's nothing like a watergun war to turn heat down a notch on hot summer days… Leena Rey and Angelika Ricci however feel even hotter and wetter after, so they lick a popsicle… all over each other! There's nothing like the sun and heat to feel hot and wet!
See Wet and Wild – Teen Water Fight trailer
Quebec porn stars who love to have some lesbian fun
It's a well know fact that women know better when it's time to pleasure each other. This is probably why porn actresses love to shoot lesbian videos. That or the fact that they are just plain naughty and horny! Lesbian fans: here are some of our beautiful porno actresses who enjoy licking pussies!
Porn stars who only do lesbian videos (sorry guys, their pussies are strictly forbidden!)
1- Sunny Spark
If in the past mini Sunny Spark shot a few videos with boys, now she only shares the screen with girls. And rumor as it that she's a real pro at eating pussies up…
2- Bella Fire
This lesbian love pro is the real deal! The colorful Bella Fire plays only with girls, on and off screen. We can say that she has a few tricks up her sleeve when it's time to lick pussies… her costars surely won't complain!
3- Niki Crimson
This blond (and sometimes brunette!) bomb loves eating pussies and being eaten by another women! We're the lucky ones since we all love to see horny lesbians finger, lick and scissor each other!
Porn stars specializing in lesbian videos (but that also love dicks once and a while!)
1- Nikita Teen
Young and fresh Nikita Teen is a newbie in porn that loves women! And when we say love we mean looveeee! She might be young but Nikita is a real lezzie, and if she could, she would eat pussies day in and day out! Even if she's barely 18, she's a real pro when it comes to pussies and dildos.
2- Vandal Vyxen
Vandal Vyxen, do we have to say more? The super mega porn star of Montreal, the Queen of Squirt (female ejaculation) is also a lezzie pro. In the dictionnary next to lesbian, there's her picture, no kidding!
3- Sarah Vickers
Blond and busty Sarah Vickers does it all! As long as it's sex, she loves it! So it's no surprise that she loves eating pussies this much! She also stars in not 1, not 2, but 3 Pegas lesbian movies: Agace-Plottes, Attrappe-Connes and Intentions Perverses : Dans l'antre de Sarah Vickers!
Still want more? Visit Lezzie BFF website to see the best lesbian videos from Quebec. When boys are not around, girls do have fun!

Tags:
Angelika Ricci
,
Bella Fire
,
big boobs
,
big tits
,
French lesbians
,
Julia Stone
,
Leena Rey
,
Lesbian
,
Lesbian big boobs
,
Lesbian Pornstars
,
Lesbian schoolgirls
,
Lesbian videos
,
lesbians
,
Lezzie BFF
,
Niki Crimson
,
Nikita Teen
,
Porn movies lesbians
,
Sarah Vickers
,
Shana Lane
,
sunny
,
Sunny Spark
,
Vandal Vyxen
,
XXX lesbians
---